Through the Lens of Women's Work and Activism: Introducing the ZARAH Guest Blog Series
by Selin Çağatay and Jelena Tešija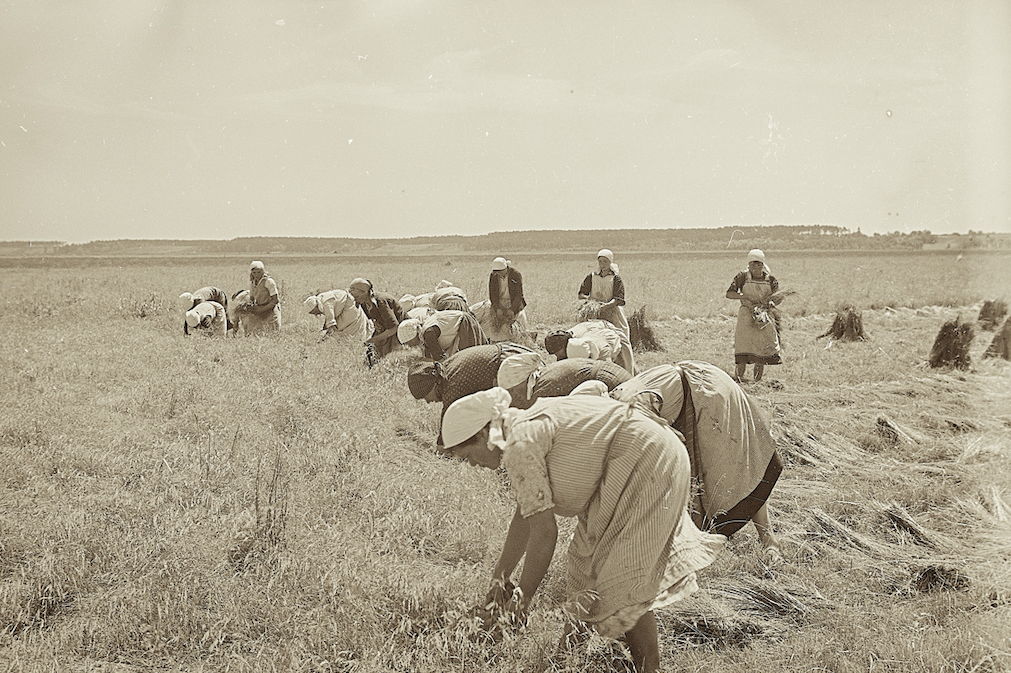 Illustration: Agricultural workers in a Polish village. Work of women in Rząśnik (1938), via Narodowe Archiwum Cyfrowe. Sepia and saturation of the photograph adjusted by the authors.
This year's ZARAH Blog Series gives the floor to invited contributors and their inspiring explorations, thus publicizing relevant research that takes place beyond the scope of the ZARAH project. Spanning a period from November 2022 to March 2023, Series IV will foreground a variety of topics, each explored through the lens of women's work and activism. The guest bloggers are invited to think of their own research in terms of women's labour-related struggles and action. Using the series as a forum for mutually beneficial conversation, we hope to collectively contribute to developing a holistic perspective on women's efforts to improve their work and everyday life conditions.
How can we think together the many ways in which women pursued their gendered labour interests throughout history? The ZARAH project tackles this question by bringing to light instances of women's labour activism in Eastern Europe and transnationally. To this end, in the Blog, we have discussed highlights from our research: Series I explored issues connected to finding women in archival sources, Series II focused on the struggles of individual activists, and Series III investigated transnational links in the history of women's labour activism.
With this introductory post for the Guest Blog Series, we would like to draw attention to a key insight that has already been noted by historians of labour and gender: to understand the multiplicity of gendered labour struggles, one must go beyond the established scopes of inquiry in gender and labour history and look for more 'unconventional' spaces of activism and forms and scales of action. This can mean that the investigation must go beyond the traditional foci of the labour and gender history such as trade unions, women-only organizations, or the workplace.
Echoing this insight, Series IV will highlight four ways in which gendered labour struggles in Eastern Europe and beyond can be explored. First, alongside organized labour movements, women pursued gendered labour interests through different kinds of social mobilizations. These mobilizations included other social movements as well as more spontaneous, issue-based actions. What had previously been neglected by labour historians and was somewhat at the periphery of organized labour, has recently gained attention as a significant locus of labour struggles. Gender, however, remains often left out as a relevant category of analysis. A case in point is the consumer cooperatives with their complex position within/vis-à-vis the labour movement.[1] Our suggestion to pay attention to the peripheries and spaces outside of the organized labour movement does not imply that gendered labour struggles within it have already been sufficiently researched. Rather, a new global labour history must also take other spaces of women's labour activism into account to help rethink what labour activism is and when, how, and why it emerges in different contexts in the first place.
Second, the labour, gender, and social movement studies have often overlooked instances of political and administrative action that took place within the state, perhaps because labour activism has often been in direct conflict with the state and state institutions. However, researchers who adopt inclusive perspectives on organizational forms of activism call for broadening the definition of the women's movement to include state institutions such as, for example, policy agencies dealing with gender issues.[2] Nevertheless, official women's organizations and trade unions in the state-socialist Eastern European countries are still often missing in these debates. Discussing contributions to labour struggles (and all potential problematic zones) of officials operating in different economic and political systems in an integrative analytical framework can enhance our understanding of activism in and out of the state.[3] It would also help us overcome the scholarly biases involved in studying different groups of women activists.
Third, work by researchers and professionals who investigated different aspects of women's work can also be considered as part of women's labour activism. In Eastern Europe and beyond, researchers not only in universities but also in trade unions, women's organizations, and state departments have documented women's work-related problems. As labour inspectors, policy-makers, and ministry officials, they also offered ways to address these problems. In state-socialist countries, historians and sociologists dedicated to women's emancipation incorporated women's struggles in labour movement histories and integrated gender issues into policy-making processes, respectively.[4] In many instances, these researchers and professionals were involved in or strongly identified with the organized labour movement. In others, they posed new research questions and used new methodologies to uncover the dynamics of gendered inequalities in social and economic spheres, for example by turning to marginalized groups of women such as rural women, migrant women, and ethnic and religious minorities in the world of work.[5]
Finally, the life trajectories of individual women offer novel perspectives on how gendered labour struggles took shape across different social milieus and political landscapes. Research on life stories of women activists, intellectuals, and artists is available in many forms including fictional and non-fictional biographies, biographic dictionaries, and ego documents. Within state-socialist and other left-wing labour historiographies, life stories often portrayed popular and heroic figures whose participation in revolutionary movements or moments gave legitimacy to regime-building efforts and/or marginalized labour struggles. In the past few decades, feminist researchers maintained the focus on significant figures,[6] but they also developed more comprehensive accounts of women's lives by focusing on their multiple engagements and overlapping identity belongings.[7] Recently, researchers have also turned to the stories of ordinary women and lesser-known activists with a curiosity to understand the experience of and participation in social mobilization and political change on the individual level.[8] A focus on the individual reveals that labour issues have been integral to women's gendered struggles even when these women did not self-identify, or not in the first place, as labour activists.
The eight posts in the Guest Blog Series deal with at least one, and most cover more than one of the four dimensions we outlined above. The series opens with Jessica Richter's piece that discusses the everyday gendered labour struggles of domestic workers outside of labour organizations in Austria from the late 19th century until 1938. Minja Bujaković focuses on the role of individual activism by women, such as Clara Zetkin, in developing the communist women's transnational movement in the early 1920s. Doreen Blake's contribution shows how Catholic women's organizations approached and portrayed gendered labour issues in their journals in Interwar Austria. Ivana Mihaela Žimbrek discusses official women's organizations' activism in relation to reproductive work and their efforts to reduce women's "double burden" in socialist Yugoslavia in the 1950s and 1960s. In her contribution, Adela Hîncu analyses how women sociologists in their research on family and agricultural work in state socialist Romania in the 1970s and 1980s addressed and made visible rural women's labour. Focusing on various aspects of Interwar activism by the Yugoslav communist activist and literary writer Milka Žicina, Isidora Grubački discusses the entanglements of intellectual and labour history. The contribution by Adrienn Kácsor focuses on the working conditions of the communist activist and artist Jolán Szilágyi and her position as a female migrant artist in Weimar Germany. Clara Vlessing's piece on the ambivalences in remembering the British suffragette and communist Sylvia Pankhurst (1882-1960) and the uses of historical figures' activism in building up contemporary movements closes the series.
References:
[1] Mary Hilson, Silke Neunsinger, and Greg Patmore, eds. A Global History of Consumer Co-Operation since 1850: Movements and Businesses. A Global History of Consumer Co-Operation since 1850. Leiden; Boston: Brill, 2017.
[2] Laure Bereni and Anne Revillard. 'Movement Institutions: The Bureaucratic Sources of Feminist Protest'. Politics & Gender 14, no. 3 (2018): 407–32.
[3] See, for example, Kristen R. Ghodsee. 'Pressuring the Politburo: The Committee of the Bulgarian Women's Movement and State Socialist Feminism'. Slavic Review 73, no. 3 (2014): 538–62.; Lee Ann Banaszak and Anne Whitesell 2017. 'Inside the State: Activism within Legislative and Governmental Agency Forums.' In The Oxford Handbook of U.S. Women's Activism, edited by Holly McCammon, Verta Taylor, Jo Reger, and Rachel Einwohner. New York: Oxford University Press. pp. 487-506.; Magdalena Grabowska. 'Bits of Freedom: Demystifying Women's Activism under State Socialism in Poland and Georgia'. Feminist Studies 43, no. 1 (2017): 141-168.; Rebecca Neaera Abers. 'Institutions, Networks and Activism Inside the State: Women's Health and Environmental Policy in Brazil'. Critical Policy Studies, 15, no. 3 (2021): 330-349.
[4] Alexandra Ghit. 'Professionals' and Amateurs' Pasts: A Decolonizing Reading of Post-War Romanian Histories of Gendered Interwar Activism'. European Review of History 25, no. 1 (2018): 21-44.
[5] See, for example, Günseli Berik. Women Carpet Weavers in Rural Turkey: Patterns of Employment Earnings and Status. Geneva: International Labour Organization, 1987.
[6] Francisca de Haan, Krassimira Daskalova, and Anna Loutfi, eds. A Biographical Dictionary of Women's Movements and Feminisms. Central, Eastern, and South Eastern Europe, 19th and 20th Centuries. Budapest, New York: CEU Press, 2006.
[7] Robert Levy. Ana Pauker: The Rise and Fall of a Jewish Communist. Berkeley: University of California Press, 2001.
[8] Jill Massino. Ambiguous Transitions: Gender, the State, and Everyday Life in Socialist and Postsocialist Romania. New York: Berghahn Books, 2019.; Maria Todorova. The Lost World of Socialists at Europe's Margins. Imagining Utopia, 1870s – 1920s. London: Bloomsbury Academic, 2020.
Transnational Links and the History of Women's Labour Activism: An Introduction to the ZARAH Blog Series III
by Alexandra Ghit, Olga Gnydiuk, Eszter Varsa
Illustration: The title page of the World Federation of Trade Unions' brochure "Working Women Shape Their Future. 2nd International Trade Union Conference on the Problems of Working Women." Women and Social Movements, International (Prague: Práce, 1964).
In 1964, between May 11 and 16, the World Federation of Trade Unions (WFTU) organized, not for the first time, a conference of women workers. It was an international gathering of working women in Bucharest, attended by 332 participants from 55 countries from Africa, Latin America, Europe, and Asia. More than 60 speakers gave speeches at the conference and discussed action aimed at improving working conditions, the defense and promotion of trade union rights and other economic and social demands, and the struggle for peace, democracy and national independence.[1] This conference was one of the numerous post-war scenes on which women activists from different countries met, collaborated, shared experiences, drafted programs of actions and adopted memorandums, appealed to national governments and international organizations. Reading about such internationally organized action one might ask: How can the integration of the history of a conference such as this one into the study of women's labour activism advance our knowledge about activism and activist women's stances and goals? Does "thinking transnationally" bring a substantive change to our understanding of the history of women's labour activism in the long perspective? Why write the history of women's labour activism from a transnational perspective?
The posts in this series invite readers to think more deeply about these issues. From the beginnings of their organizing in the latter half of the nineteenth and then throughout the twentieth century, women labour activists in Eastern Europe were not confined within the borders of states and empires but participated in a variety of cross-border and transnational networks and international organizations, and exchanged information, within and beyond the borders of states and empires. Activists and functionaries were connected to various international and transnational (socialist, communist, Catholic, Jewish, etc.) labour organizations, both as part of male-dominated and women-only structures. They were also involved in women's organizations and networks addressing concerns of working women. Among these organizations were the Second International, the International Labour Organization (ILO), the Red International of Labour Unions, the International Cooperative Women's Guild, the International Federation of Working Women, the WFTU, the International Confederation of Free Trade Unions, the Women's International Democratic Federation, and many more. In these fora women's labour activists discussed and aimed to advance not only labour protection and gender equality measures and a plethora of reforms concerned with women's rights and women's work, but also the issues of peace, human rights, development and anti-colonial struggle, and the struggle against racism.[2]
An investigation of the circulation and exchange of ideas, organizational practices, repertoires, and agendas of activism across borders and regions poses new questions on and reveals new insights into how these processes shaped women's work and labour activism in different local contexts and on how activists from Eastern Europe and elsewhere contributed to the making and shaping of the international politics of women's work. Posts in the previous series of this blog, on activist biographies, already brought to the surface examples of transnational connections, networks, actions, and long-term effects. Gabriele Proft was active in the interwar international socialist movement and the International Federation of Trade Unions. Bulgarian communist women (among them Ana Maimunkova) participated in the Second International Communist Women's Congress in Moscow in 1921. Polish labour inspector Halina Krahelska forged significant transnational ties especially through involvement in the ILO. Migration and cross-border mobility, whether determined by economic need (as was the case for young Proft) or by deportation (as happened to Krahelska), had an important influence on these women's lives. These and many other similar experiences require a framework of analysis not provided by nation-state-centric historiographies.
Historians of women's labour activism should explore such connections and interactions and analyze the travel and translation of forms of organizing and ideas motivating and shaping activists' agendas and repertoires of action. Yet, we need to integrate the transnational sphere and the history of international organizing into our research agendas in a creative and nuanced manner.
The historiography of the international organizations founded from the late nineteenth century onwards has begun to explore the history of transnational transfers between Eastern Europe and the rest of the world. In fact, women labour activists forged transnational links not primarily for the sake of connection. They aimed to influence global developments especially as the sphere of international relations expanded to include non-governmental actors, multilateral organizations, and new topical agendas, and they contributed to these same processes. They were keen to participate in internationally organized action partly to compensate for their lack of inclusion in their own contexts. Significantly, women's involvement in both formal and non-formal international settings repeatedly had an impact on how they framed their agendas, sometimes expanding, streamlining, or modifying their aims and demands. This, in turn, could have an impact on their self-positioning and action in domestic contexts. Women's transnational action also contributed to both challenging, reproducing and transforming global economic inequalities and unequal international relations. A good example to illustrate this phenomenon is the genealogy of international "gender equality" policies.[3] One might well ask how the international struggle over sex-specific labour legislation versus the advancement of the legal equality doctrine in labour law played out before World War II in Eastern European settings where entrepreneurial interests often trumped (men's as well as social reformers' interests in) women-specific labour protection. One might also ask whether and how the unwavering state-socialist conviction that equality and difference must and could easily be combined in labour law, without generating any detrimental effects for women, contributed to the longevity of the international commitment to women-specific labour protection.
The study of women's labour activism can thus sharpen our knowledge about exchanges between the inter- and transnational and the local, national, and regional level. It has become a truism in recent scholarship that these exchanges have always been multidirectional. Research on Eastern Europe has begun to show that this region did not only stand at the receiving end of international-level action on behalf of these organizations. Rather, local actors actively influenced the topical agendas as well as the scope of action of these organizations.[4] Not only did the transnational context and the agendas of transnational organizations influence Eastern European women labour activists' local-level engagement but these activists themselves contributed to the development of these organizations' agenda-setting on behalf of working women. They were thus involved in shaping the transnational context of women's labour organizing.[5] The study of women's labour activism in Eastern Europe needs to explore how transnational power inequalities, material imbalances, divergent perceptions, and evaluations of the experiences and views of labour activists from different regions impacted both transnational cooperation and local practices of labour activism.
For the history of women's labour activism, a transnational approach is also key in exploring issues connected to labour migration. In this regard, we need to address the question of how nation-based institutions related their agendas to the needs and problems of workers moving across borders: Did, and when and why did, trade unions and other organizations and institutions seek to create fairer labour conditions for all, and when and why did they tend to isolate or even entirely keep out the migrant workers they may have perceived as competitors to the domestic labour force?[6]
In sum, a transnational and international approach helps to construct more inclusive historical narratives, can be employed to critically interrogate processes of social and economic hierarchization that played out in settings that transcended nation-states and can direct our attention to gendered spaces of opportunity available to or generated by women who combined activism at home with activism in inter- and transnational settings.
The six blog posts to be published in this series over the course of the next four months will deal with women's labour activism in various transnational settings and time spans. They will address transnational and translocal exchanges and developments that were connected in a variety of ways with organized actions in various local workplaces and labour environments. The blog posts will discuss, e.g., the contacts and ties of the Women's Department of the Bulgarian Communist Party with the International Women Secretariat of the Comintern in the early 1920s, the labour activism of women from Eastern Europe in the Labour and Socialist International between 1923 and 1940, and in the WFTU after 1945, as well as the transnational processes and actors involved in establishing local educational structures and programs for women workers organized in labour unions in Turkey in the 1980s.
References:
[1] World Federation of Trade Unions, Working Women Shape Their Future. International Trade Union Conference on the Problems of Working Women. Women and Social Movements, International (Prague: Práce, 1964).
[2] Boris, Eileen, Dorothea Hoehtker, and Susan Zimmermann, eds. Women's ILO: Transnational Networks, Global Labour Standards, and Gender Equity, 1919 to Present, Studies in Global Social History, vol. 32. (Leiden, Boston: Brill, 2018); Cobble, Dorothy Sue, For the Many: American Feminists and the Global Fight for Democratic Equality (Princeton, New Jersey: Princeton University Press, 2021).
[3] Zimmermann, Susan, "Equality of Women's Economic Status? A Major Bone of Contention in the International Gender Politics Emerging During the Interwar Period," The International History Review 41, no. 1 (November 2017): 1-28, https://doi.org/10.1080/07075332.2017.1395761. See also Dolinsek, Sonja, and Philippa Hetherington, "Socialist Internationalism and Decolonizing Moralities in the UN Anti-Trafficking Regime, 1947-1954," Journal of the History of International Law/Revue d'histoire du droit international 21, no. 2 (2019): 212-238.
[4] See e.g. Iacob, Bogdan, Corina Doboș, Raluca Grosescu, Viviana Iacob, and Vlad Pașca, "State Socialist Experts in Transnational Perspective. East European Circulation of Knowledge during the Cold War (1950s-1980s): Introduction to the Thematic Issue," East Central Europe 45, no. 2-3 (2018):145-159, https://doi.org/10.1163/18763308-04502006; Hadler, Frank and Matthias Middell, eds. Handbuch einer transnationalen Geschichte Ostmitteleuropas, vol. 1, Von der Mitte des 19. Jahrhunderts bis zum Ersten Weltkrieg (Göttingen: Vandenhoeck & Ruprecht, 2017); Mark, James, Artemy Kalinovsky, and Steffi Marung, eds. Alternative Globalizations: Encounters between the Eastern Bloc and the Postcolonial World (Bloomington: Indiana University Press, 2020).
[5] Donert, Celia, "From Communist Internationalism to Human Rights: Gender, Violence and International Law in the Women's International Democratic Federation Mission to North Korea, 1951," Contemporary European History 25, no. 2 (2016): 313-333.
[6] Hoerder, Dirk, "Transnational, Transregional, Transcultural: Social History and Labor Migrants' Networks in the 19th and 20th Centuries," in Transnationale Netzwerke im 20. Jahrhundert. Historische Erkundungen zu Ideen und Praktiken, Individuen und Organisationen / Transnational Networks in the 20th Century, ed. Berthold Unfried, Jürgen Mittag, Marcel van der Linden, and Eva Himmelstoss. ITH-Tagungsbericht 42 (Leipzig: Akademische Verlagsanstalt, 2008), 81-98.
Putting Activists Centre Stage: An Introduction to the ZARAH Blog Series II
by Zhanna Popova and Veronika Helfert
Illustration: A group of female members of the Sejm from the Nonpartisan Bloc for Cooperation with the Government, including Janina Kirtiklisowa, Eugenia Waśniewska, Zofia Moraczewska, Maria Jaworska, and Halina Jaroszewiczowa (1930) via Narodowe Archiwum Cyfrowe
Biography is among the canonical genres of historical writing. It is also one particularly riddled with clichés: too often authors put their protagonists on a pedestal instead of providing a complex, nuanced picture of them as personalities and historical actors. In response to this, recent historiography, especially the feminist historiography, has consistently problematised biography writing. Clare Hemmings, for example, thought extensively about some of the critical issues involved in writing about "larger-than-life anarchist activist and political thinker" Emma Goldman. There are tensions between the historical subject's own autobiographical enterprise and the archival, personal, and public testimonies. There is a complex mix of emotions that taint biographical writing, ranging from fascination and uncritical admiration to perceived intimacy, which the biographer needs to distance herself from. In short, the relationship between a historical figure and a writer is never a neutral one.[1]
Feminists and historians interested in women's and gender history have been researching the past and looking for women as historical actors since the nineteenth century.[2] The motivations for this were and are manifold: female socialists have been looking for and presenting them as role models, like the Austrian social democrat Emma Adler who portrayed French revolutionaries,[3] or the many activists and academics in state-socialist countries who published about and popularised socialist and communist women of the past. Feminist historians putting women in the limelight were also creating a counter-narrative to the "history of great men" by writing life stories of important but unknown women.
A researcher who sets out to follow activists puts herself in a complicated position in terms of sources used (check out our previous blog post series on finding women in the sources below). Documents pertaining to lives of individuals tend to be scattered, hard to access, incomplete and particularly partial. While public institutions and organisations often offer voluminous and well-preserved records, only some individuals are preoccupied with creating well-inventoried and curated personal archives. Identifying and locating sources sufficient for constructing life stories of women who were marginalised often proves challenging. Although many women involved in party organisations or women's movements were acutely aware of the importance of their activity and preserved extensive personal records, engaging with archives of well-known functionaries and feminist intellectuals has its own challenges. A recent study on the German women's rights activist, Käthe Schirmacher, explored these pitfalls. One such problem, for instance, is the continuous autobiographical "overwriting" that Schirmacher engaged in throughout her life, re-interpreting, omitting, or including facts into her own life story depending on her changing views[4]. Rank and file female labour activists often did not have the time and resources to systematically preserve records.
Despite these difficulties, research on individual women activists can be rewarding. ZARAH as a project evokes the names of two women: the Turkish-Greek trade unionist Zehra Kosova and the Hungarian peasant women's right campaigner Sára Rokon Tóth. Activists – their lives, their names, their actions, their writings – are of interest to us. The biographical miniatures we will present in the upcoming blog series show why an engagement with individuals can be a worthwhile endeavour. Researchers of the ZARAH Team will zoom in on individual women labour activists who lived and worked in Eastern and Central Europe, also reflecting on the specificities of putting them centre stage in a historical investigation. Even without pursuing a fully-fledged project of biographical writing, historians of labour activism, as we show, can profit from focusing on individuals.
First, focusing on an individual gives the historian a possibility to see them as an acting, thinking, and feeling person. While the tendency to heroise has been (and continues to be) a problem in biographies of women, and especially women activists, the acknowledgment of the often inconsistent and conflicting facets of their personalities and activities shining through when reading of sources carefully can provide a counterpoint to such heroising narratives.
Second, a researcher who puts female labour activist's actions in the limelight of her study is rewarded with a more inclusive and more complex understanding of activism. Activists often had to make complicated choices in order to be able to pursue their agendas as women and workers. Repeatedly, this meant combining an engagement in male-dominated trade unions with participation in middle-class dominated women's organisations with the goal of following their class and gender interests simultaneously. A focus on individuals also shows that repertoires of activism could be extremely expansive. They included not only traditional collective action, but a wide variety of activities: smuggling and distributing illegal press and literature, giving musical soirées where singing was intertwined with agitation, organising childcare, creating schools for young women workers or campaigning for consumer boycotts.
Third, following a life story vividly highlights how activists and activism changed over time. Changing contexts meant changing responses to them: evolution of causes for mobilisations, disruptions of the repertoire of contention or access to long-sought positions of power within governments and trade unions. A life story also puts at the forefront not only the policy-related consequences of activism, such as change of laws or creation of new institutions, but also personal consequences of activist engagement, which ranged from empowerment to complete disillusionment and despair.
Finally, interest in a particular activist can also enrich one's own research perspective. In dealing with a single historical person, their networks might come to the surface, altering the image of male dominated organisations like trade unions. Tracing the activities and writings of a woman may suddenly reveal a range of other women, as addressees of letters, as common speakers at events, as companions in photographs and other personal accounts. Reading their publications may offer insights in a broad range of topics and themes highlighting the fact that women workers had multifaceted loyalties. Studying concrete persons can reveal the connections between different movements (i.e. women, labour and national movements) and might provoke a shift in understanding interconnections between them.
In the coming weeks, ZARAH researchers will give insights into their research projects, introduce key women militants from Eastern Europe involved in different forms of labour related activism and show the perspectives opening up when following their traces.
References:
[1] Clare Hemmings, Considering Emma Goldman: Feminist Political Ambivalence & the Imaginative Archive (Durham: Duke University Press, 2018), 1-14.
[2] Gabriella Hauch, "'Wir die wir viele Geschichten haben…' Zur Genese der historischen Frauenforschung im gesellschaftlichen und wissenschaftlichen Kontext," ['We who have many stories…' On the genesis of historical women's studies in a social and scholarly context] in Frauen- und Geschlechtergeschichte: Positionen und Perspektiven [Women's and Gender History: Positions and Perspectives], ed. Johanna Gehmacher and Maria Mesner (Innsbruck: Studienverlag, 2003), 21–35.
[3] Emma Adler, Die berühmten Frauen der Französischen Revolution [The famous women of the French Revolution] (Vienna: C. W. Stern, 1906).
[4] Johanna Gehmacher, Elisa Heinrich and Corinna Oesch, Käthe Schirmacher: Agitation und autobiografische Praxis zwischen radikaler Frauenbewegung und völkischer Politik [Käthe Schirmacher: Agitation and autobiographical practice between radical women's movement and völkisch politics] (Vienna: Böhlau, 2018), 513-528. Open access: https://www.vr-elibrary.de/doi/book/10.7767/9783205208280.
Finding Women in the Sources: An Introduction to the ZARAH Blog Series I
by Veronika Helfert and Zhanna Popova
Picture: Szakszervezeti kirándulás / Trade union outing. Source: National Széchényi Library (OSZK) Budapest
Right from the start of her research, an historian investigating women's labour activism is confronted with a challenge: sources often tend to focus on men rather than women, even when women were equally active during the described events. Official documents produced by state administration and (international) organisations, as well as press, often omit not only women's perspectives, but sometimes their presence altogether. Other types of sources are not necessarily more inclusive. An example from the 1913 Dublin lockout illustrates this bias saliently. The lockout, which lasted almost five months and affected up to twenty thousand workers, was one of the most severe labour disputes in Irish history. It attracted international attention and support from foreign labour activists. Bill Hayworth, American socialist and activist of the Industrial Workers of the World (IWW) trade union, visited Dublin during the lockout and was amazed to see what he thought was a familiar acronym – IWW – on banners all over the city. Only later was he told that it actually stood for Irish Women Workers – an organisation that women workers created in 1911 because other trade unions excluded them. The Irish Women Workers' Union took an active role in the strike that preceded the lockout and fought to mobilise local and international public opinion to favour the striking workers.[1]
With this example, the exclusion of women workers from the mainstream labour movement becomes visible, as they were denied membership in other trade unions at the time. It also highlights a more subtle, hidden bias against women activists that often shaped the sources: even an involved observer automatically assumed that an all-women's trade union was an entirely different, male-run organisation.
Historians studying women's labour activism often must  be resourceful and inventive when it comes to sources. Where official records can fail, poetry, songs, diaries, photos, oral history and even documents on household debt can help to better grasp activity of women as labour activists. These sources also show that the narrow definition of labour activism as limited to the workplace does not hold when confronted with the multiple tactics and strategies that women used to achieve their labour-related goals. Such sources underscore the importance of communal spaces and informal communication, organisation of childcare, consumer tactics as activism, and other understudied subjects.
Sources created by women workers in the most vulnerable positions – casual, precarious workers, those involved in "sweating industries" or poor rural labourers – are particularly scarce. Luckily, exceptions can be found. Women workers petitioned authorities to improve their situation. They talked to inspectors and investigators, and sometimes snippets of their accounts can be found in official reports. They also forged alliances with non-working-class women activists who participated in international feminist organisations. For instance, from 1908 on, Mrs. István Bordás, day wage rural labourer and an activist of the socialist peasant movement in Hungary, corresponded with Rosika Schwimmer, a journalist and internationally acclaimed Hungarian feminist. This correspondence also involved other peasant activists, and lasted for many years.[2] The letters tell the story of the fight for labour rights of poor peasant women in their own words.
The aim of ZARAH is to research women's labour activism in Eastern Europe in its variety and complexity, and bring women activists that were often placed at the margins of labour, gender, and European history to the centre of historical inquiry. In the course of our study, we encounter precious sources that give a glimpse into the experiences of these women, experiences that were unknown, disregarded, or omitted before. The research agenda of ZARAH also includes making such sources available to the scholarly community and interested public via an online database. In order to showcase research in progress, we would like to share here some illuminating sources that we have encountered so far here, on the website of ZARAH. Sources such as these form the indispensable springboard for the thoughtful analysis of the history of women's labor activism.
This series includes the following posts:
References:
[1] Moriarty, Theresa. "'Who Will Look after the Kiddies'? Households and Collective Action during the Dublin Lockout". In: Rebellious Families: Household Strategies and Collective Action in the Nineteenth and Twentieth Century, International Studies in Social History 3, edited by Jan Kok, 110–24. New York: Berghahn, 2002.
[2] Zimmermann, Susan, and Piroska Nagy (translation of source). "Female Agrarian Workers in Early Twentieth-Century Hungary." Aspasia 12, no. 1 (January 1, 2018).